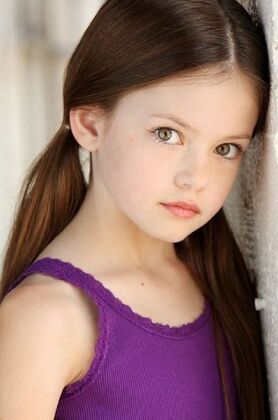 Mackenzie Foy (born November 10, 2000) is an American child model and actress who is best know as Renessmee Cullen in the Twilight Saga series and voiced Susie Darknel in the Sonic the Hedgehog series. She plays Brooke McDonald in Scream 5, Darcy Brooks, the cousin of Elisa Brooks (Danielle Panabaker) in Final Destination 19, Emily Stein in Mommy Dearest, Amelia Diamond, the daughter of Molly Diamond and niece of Rebecca Diamond (Jennifer Lawrence), in 9 Lives and Cindy Perron in the Conjuring.
Filmography
Edit
the Conjuring (2013) - Cindy Perron
Blood Red Cabin (2015) - Young Kristina Dean
Ad blocker interference detected!
Wikia is a free-to-use site that makes money from advertising. We have a modified experience for viewers using ad blockers

Wikia is not accessible if you've made further modifications. Remove the custom ad blocker rule(s) and the page will load as expected.