Ad blocker interference detected!
Wikia is a free-to-use site that makes money from advertising. We have a modified experience for viewers using ad blockers

Wikia is not accessible if you've made further modifications. Remove the custom ad blocker rule(s) and the page will load as expected.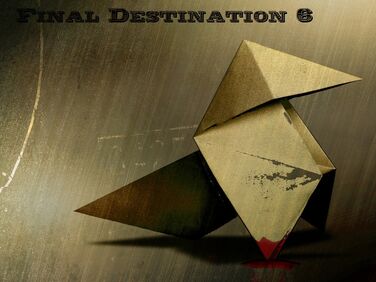 Final Destination 6
is a 2012 horror film, starring Emma Roberts, Taylor Momsen, Alexa Vega, Shanica Knowles, Daniel Radcliffe, Dennis Quaid, Katherine Heigl, Will Forte, Katherine McPhee, Tony Todd, Hugh Jackman, Tyrese Gibson, Lamont Bedly, Kevin Costner and Robbie Jones
Emma Roberts as Katie Lawton/The young doorgirl who had the premonition of her families hotel being on fire and Sam Lawton's sister and Protagonist
Taylor Momsen as Jane McDonald/Katie's 2nd best friend
Alexa Vega as Julie Portman/Tommy's assisent and Antagonist
Shanica Knowles as Erica Reese/Katie's best friend
Daniel Radcliffe as Jared Cooper/Katie's 3rd best friend
Dennis Quaid as Tommy Finkle/Katie's boss
Katherine Heigl as Penny Flick/One of the workers of Lawton Hotel and Katie's tutor
Will Forte as Richard Lawton/Katie's father
Katherine McPhee as Lily Lawton/Katie's mother
Tony Todd as William Bludworth/The guy who told Katie about Death
Hugh Jackman as James Pittman/Katie's idol
Tyrese Gibson as Treeq Fredro/Hakeem's brother
Lamont Bedly as Hakeem Fredro/Treeq's brother
Kevin Costner as Larry Fort/The head chef of Lawton's Hotel
Robbie Jones as Carlos Dean/One of the workers of the Lawton's Hotel
Survivors
Edit
Katie, Erica, Jane and Jared survived and defeat Death.
Death Killings
Edit
Carlos Dean: Head crushed by a statcue
Larry Fort: Impaled by a sword
James Pittman: Falls off four stores
Treeq Fredro: Bones crushes
Hakeem Fredro: Hook went on his head
Penny Flick: Crushed by a falling glass
Tommy Finkle: Wrench went flying to his eyes
Lily Lawton: Cut in half
Richard Lawton: Crushed by a safe
Julie Portman: Katie stabbed her in the chest and pushed her off nine stores
Carlos Dean
Larry Fort
James Pittman
Jared Cooper
Treeq Fredro
Hakeem Fredro
Jane McDonald
Tommy Finkle
Erica Reese
Julie Portman
Katie Lawton