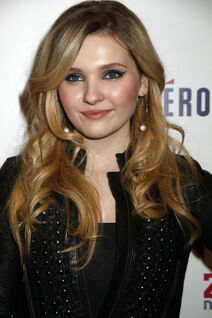 Abigail Kathleen Breslin (born April 14, 1996) is an American actress. She was known for voicing Ariel the Werehog in Sonic X: New Adventure and Pokemon: The End of the Journey. She is a scream queen.
She plays Alice Nightingale, the best friend of Hayley McDonald (Georgie Henley) and Marcie Perkins (Rutina Wesley) in Scream 5 and Scream: The Murder Mystery, (as a ghost), Lisa Brennan in Scream: TNG 6, Jessica Bates, the neice of Norman Bates (Donnie Wahlberg in Psycho 2 then Matt Damon in Psycho 3), In Psycho 2 and Psycho 3, Peyton McDonald in Halloween film series, Abby in Sorority Row film series, Jodie Decker in The Last Destination and Lucy Coleman in remake of Orphan.  She plays Sophie Jensen in Boogeyman film series, Chloe Cooper in Paranormal Activity 4, Vivian Howard in Carrie 3: The Return,Crystal Amohe in Wicked Little Things 2, Elisa Tyler in Santa Comes to New York to Kill, Amelia in Zombie Town 2, Amelia Sohapi in Mother's Day 4: Mother's Return, Catherine Mitchell, sister of Jo Mitchell (Rooney Mara) in Pacific House and Candy Forrester in The Babysitter.
Ad blocker interference detected!
Wikia is a free-to-use site that makes money from advertising. We have a modified experience for viewers using ad blockers

Wikia is not accessible if you've made further modifications. Remove the custom ad blocker rule(s) and the page will load as expected.